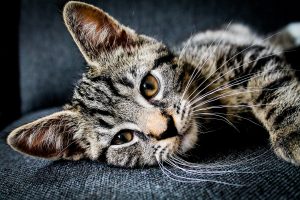 Although this may seem like a given, many homeowners know and understand that in order to minimize the amount of allergens and bacteria you and your family are being exposed to that you must frequently clean your home but have you ever thought about how you clean your house to keep your furry friends happy and healthy, too? It's true, our furry friends are affected by the environment we live in because, of course, they live there, too!
An overcrowding of junk in a home where animals live can become a breeding ground for germs and bacteria, in addition to, being a detriment to your animal's emotions. Below are popular allergens that can affect your pet's health.
Dust mites – These allergens are a common trigger of asthma and allergy symptoms. Dust mites can be found throughout the house in warm, humid environments like bedding, furniture and carpeting. We suggest washing your bedding often, getting rid of old furniture and vacuuming and washing your carpet occasionally.
Indoor molds – This particular allergy along with mildew are often found in damp places, typically the basement, bathroom or a place where a leak has occurred. You can get rid of and prevent mold by wiping your surfaces with water and a little bleach. Then allow the area to dry completely.
For more information about our junk removal services at Mr. Junk, visit our website or give us a call at (678)MR-JUNK1. Are you a current Mr. Junk customer? Rate and share your experience with our team in the review section of our Facebook page today. We always enjoy hearing from you!