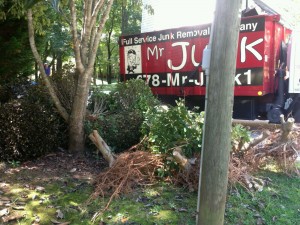 At Mr. Junk, we're no strangers to getting our hands dirty. Our team has years of practice hauling the strangest stuff, from giant safes and rotting hot tubs to clothes on the fence after a tenant was evicted. No job is too big, small, or difficult to handle for our professional Alpharetta junk haulers. Here are a few of our messiest jobs over the years.
Cleaning Up After Tenants: Not only did these renters leave behind clothes and furniture, they left a fridge full of food in the driveway! Instead of wasting a weekend hauling it away, the landlord called Mr. Junk and had the problem solved in a jiffy.
Whole Home Clean-Out: When we say, "no job too big," we say it from experience. This week-long job last year meant cleaning out an entire house and yard. Luckily the Mr. Junk team was up to the task.
Tree Trimming and Yard Debris: Whether you're dealing with debris after a storm or a tree service with no clean up, Mr. Junk excels at cleaning up yard debris. Give us a call to remove shrubs, tree branches, or old lawn furniture.
Garage Clean-Out: Sometimes a mess is more than a mess. When a concerned customer called, we jumped in the truck to take care of a rat infestation caused by piled up junk. No more debris, no more places to hide.
It's a Dirty Job: Mr. Junk is the only junk removal service that pays attention to the smallest details. We don't just haul unwanted items; we also stay to clean up afterwards. This job had cabinets full of roach dust from a resident who could no longer care for such a big house. We removed old furniture and appliances, then swept away the leftover messes from years of accumulated dirt.
Need a hand hauling old junk? We offer same-day junk removal for most projects. If you need help cleaning up the home, yard, or office, call Mr. Junk for fast, dependable, customer-oriented service.