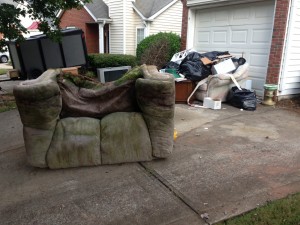 We don't plan to hoard junk, it just happens. "I'll organize that box tomorrow" turns into "shove it in the attic, dear." Plans to sort family heirlooms never fit into everyone's schedules. Hauling off home garbage becomes a daily occurrence. When junk gets the best of you, it's difficult to contain it. Sometimes it seems easier to let cluttered closets stay junky instead of overhauling home spaces. But with a few simple changes in your everyday house care practices, you can reduce home junk and live a cleaner, clutter-free lifestyle.
Green Cleaning
Most Americans have a cupboard of home cleaning supplies. When it's time to scrub the bathroom floor, they root around a cabinet brimming with unnecessary bottles, forgotten scrub brushes, and harsh chemical cleaners. Learning green home cleaning reduces the amount of toxins in the air, de-clutters your cleaning closet, and gives your home a crisp, environmentally-friendly freshness. Use basic kitchen ingredients like vinegar, lemon, baking soda, and water to kill germs and clean your home without a separate bottle of chemical cleaner for every task. If you're not willing to clean green, sort through your cleaning supplies and eliminate the bottles you rarely use.
Reducing Home Waste
Put the kids to work with a daily or weekly chore list.
Buy quality products that don't need frequent replacing.
Use reusable tote bags for groceries, lunches, and shopping.
Give away or donate items you don't need.
When possible, eliminate the use of throwaway items like paper plates and plastic bags.
Repurpose junk using tips from life hack guides or upcycling blogs.
Plan a schedule for home organization and junk removal. Deep clean your cluttered spaces once a month, once a season, or twice a year depending on your level of mess.
For junk hauling made easy, call Mr Junk.