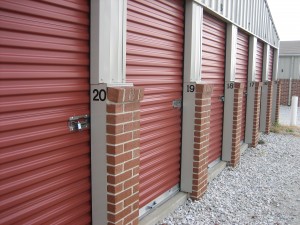 Self-storage seems pretty straightforward. You haul furniture, appliances, and boxes to the storage facility, pay them until you're ready to reclaim your stuff, then move it to your new home. Self-storage can seriously reduce stress when moving homes, especially if the move out date and move in date don't sync. But believe it or not, you're probably doing it wrong. Get ahead of the moving game with these tips on how to conquer self-storage.
Moving In
Choose a secure storage facility with good ratings

Wrap everything you can to protect your stuff from dust, bugs, and mildew

Use pallets to keep your stuff off the floor, which could collect puddles in bad weather

Invite family and friends to help with the move (and treat them to pizza afterwards)

Make the most of your space by planning how to store each item, tetris style

Plan for the humidity of Georgia summers by carefully sealing anything that may warp in moist air

Label

everything

–trust us

Beef up security by using a heavy padlock that bolt cutters can't slice through
The Self-Storage Sweet Spot
It's easy to forget how cluttered our day-to-day lives can get. Once the extra junk is safely tucked away, many homeowners find they like the minimalist feel of their new lives. But they're connected to their stuff, too. The result? Instead of unpacking that self-storage unit once their new home is ready, they . . . delay. And pay. Some homeowners pay for years of self-storage they don't need. If you're dragging your feet on unpacking the storage unit, take stock of what you have. Store a few heirloom pieces in the garage or attic, but make a point to pass on other furniture and appliances to friends, family, and people in need.
Moving Out
Give the storage facility a heads up

Don't wait until the last rental day to move out–it's not worth the stress

Have a plan for where to move most items, whether it's into a new home or straight to a donation center

Leave no item (or spill) behind. The storage facility may tack on fees for that spilled paint can or forgotten box
Don't know what to do with that couch you don't need? Call Mr. Junk to clean out your storage unit.