What sets Mr Junk apart from every other junk removal service? We don't just care about making cash by filling our truck. Our haulers take the time to talk with homeowners about their needs, remove items customers forgot about, and go above and beyond with creative solutions to everyday problems. When you need Alpharetta junk removed at a fair price, call Mr Junk.
What Sets Us Apart from Other Junk Haulers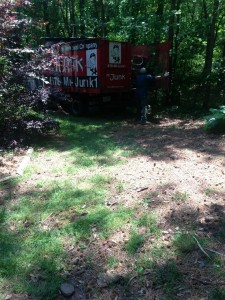 At Mr Junk, customer service isn't all about lip service. We make a point to keep customers happy, no matter how big the haul is. Here are just a few ways Mr Junk takes customer service to the next level:
No scuff mark left behind. How many of us have hired professional movers, only to find our walls, floors, and furniture dinged and scratched at the end of the day? We never want to leave you thinking, "I could have done a better job myself." Our junk haulers take every precaution when moving home items, and our years of experience give us the skills to avoid door dings and scratched paint on the way out of the house.
Everything but the kitchen sink. No haul is too big for Mr Junk. If you just can't figure out how to get something out of the house, we promise we will! Some memorable hauls from this year include moving a 1200 lb safe out of the basement through winding corridors and hauling off the heavy slate slab from a broken pool table.
Swept and tidied. What other junk removal service stays to clean up afterwards? Mr Junk doesn't just haul away boxes of old stuff. We take the time to pick up debris, remove the rusty nails and screws hidden by junk, and sweep up the space before we leave.
Don't choose a big-name junk hauler who will treat you like just another number. Call Mr Junk for Alpharetta junk removal and learn how customer service should be.