There are hundreds of reasons a tenant might leave before the end of his lease: a family could relocate to a new school district, an elderly tenant may pass away, a businesswoman might move for a new job offer, or a tenant could be evicted due to financial instability. But regardless of the reason, the landlord is often left holding the trash bag. If you have a tenant who forgot home junk when he moved, there's only one man for the job: Mr Junk.
Home Clean Outs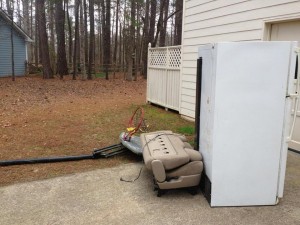 We've seen it time and time again: a problem tenant moves out and leaves a catastrophic mess. Sometimes it's as simple as dirty carpets and couches abandoned in the living room. One memorable junk haul required weeks of full-time manpower when a tenant left years of accumulated junk – from a broken dryer to piles of unwashed laundry – behind after his move. The last thing a property owner wants to deal with is deep cleaning the apartment before a new resident can sign the rental agreement. That's where we come in. Mr Junk specializes in home clean outs, from interiors to crawl spaces to yard debris removal. Instead of spending hours cleaning out your old tenant's mess, trying to get the living space up to code, give our professional junk removal service a call. We'll load everything on our truck, sweep up the leftover dirt and debris, and recycle or donate whatever we can. All you have to worry about is finding a new renter to fill the empty space!
Don't stress over someone else's mess. If your tenant moves out and leaves a mess behind, Mr Junk is on the job. Give us a call to schedule a junk haul at your earliest convenience.