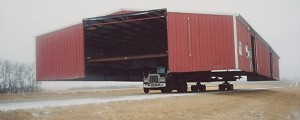 There's nothing quite as stressful as moving. It seems like no matter how well you prepare, come moving day you're overwhelmed with boxes, junk, and deadlines. But with 1 in 5 American families moving every year, relocating years of junk is a problem that won't go away. Get ahead of your relocation organization by tossing these items before packing up your home.
3 Things to Toss Before a Move
Worn or broken furniture. Okay, we get it. That bright, musty, floral-print couch was your first big furniture purchase as newlyweds. But believe us when we say that at this point it's doing more harm than good. If you own ragged furniture with sentimental value, step back and honestly assess whether you'll ever polish it up. If you will, do it before you move. If not, add it to the haul pile.

Appliances. Chances are you have at least one appliance you've been stretching "one more year" for the last decade. If you have a fritzy mixer, a coffee maker that requires daily coaxing, or a borderline dangerous food processor, take the opportunity provided by relocating to replace old appliances with a newer model.

"I'll Need It Someday" Stuff. We all have it. Memorabilia from an old road trip, "collectibles" that still aren't worth much, clothes from high school . . . if you've forgotten it's lurking in your attic, it's best to haul it away instead of trying to haul it with you.
Experts agree that waiting until after a move to sort through old junk only increases the cost and hassle of moving. Organize your stuff before you move and call Mr Junk to haul off any junk you don't want in your new home.