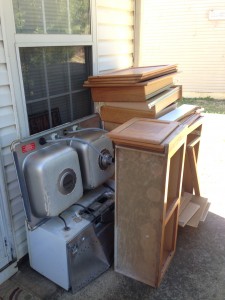 Spring-cleaning may be dwindling to its last few boxes, but home improvement fever is still going strong. Folks in Roswell, Kennesaw, and Woodstock are breaking out the power tools to spruce up their homes for summer events. Whether your home updates include surface stuff or intensive rebuilding, check out these top 5 home renovation mistakes before you start a messy new project.
Diving right in. It's tempting to tackle home renovation as soon as inspiration strikes, but that road leads to disaster. Plan the cost, materials, and timetable before you pull out the tools for your home renovation project.
Being shortsighted. Quality materials cost more money, require a more professional hand, and often look less showy than popular home style trends. Save the savings for easily interchangeable home décor items; when it comes to cabinets, flooring, and plumbing, it pays to splurge.
Choosing the wrong renovations. All homeowners have personal style preferences, but when those preferences clash with the style of the home, the décor of the rest of the house, or the renovations of nearby neighbors, the difference can be jarring. When in doubt, make simple, timeless updates to your home space.
Room by room. Most homeowners fall into two renovation categories: fix it all at once or only fix the biggest problem. The former approach makes homes unlivable for months at a time, while the latter often leads to mismatched houses of tasteful, modern rooms stuck beside outdated home spaces. Tackle your renovations room by room, making the transition between each space as seamless as possible.
Choosing the wrong contractor. DIY projects can have beautiful results, but don't get in over your head. If you're tackling an extensive home renovation project, find a professional contractor to rewire electrical systems, move plumbing fixtures, and make major structural changes to the house.
No want wants to trip over splintered boards, rusting nails, and torn strips of wallpaper from the '70s. After you've completed your home renovation projects, call Mr Junk to haul away the debris, leftover materials, and dirt cluttering up your new home spaces.