Some homeowners steadily chip away at spring-cleaning from March until May, while others prefer to haul off winter junk in one fell swoop. The key to effective spring-cleaning is to find a system that works. Whether your spring overhaul involves organized chaos or tightly controlled cleaning, here's a spring-cleaning checklist to make "out with the old" a little easier.
Spring Home Maintenance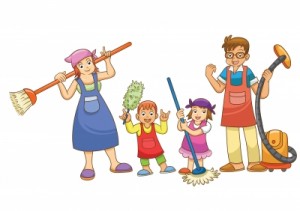 Spring is an excellent time to tackle those home cleaning and maintenance tasks that slip through the cracks. Kick off your spring-cleaning by:
Dusting baseboards, rafters, ceiling fans, and fixtures
Wash doors and walls
Touch up paint
Clean air vents
Replace HVAC filters, light bulbs, smoke detector batteries
Reseal windows
Clean or re-grout tile
Schedule an appointment with pest control
De-Cluttering Your House
Spring de-cluttering serves two purposes: remove old junk from your home and update subpar equipment. Whether you take spring-cleaning one room at a time or wherever the mess looks worst, an organization overhaul of your storage spaces freshens up your home for the warmer months. Organization is the key to spring-cleaning success. Create a pile for keep, donate, and trash. After determining what's worth keeping and what needs replacing, reorganize your closets and cabinets to prevent junk buildup. Call Mr Junk to haul away trash and donation items. Our junk removal service will always try to donate or recycle your old stuff. Let us remove your old appliances, furniture, and junk boxes so you can get back to spring-cleaning.
A Cleaner, Fresher Home
Many helpful spring-cleaning checklists litter the internet, giving you room-by room projects for a cleaner home. For each room, remember:
Clean doorknobs and handles
Wipe down doors, walls, and cabinets
Clean the space under the sink and inside hanging cabinets
Clean baseboards and ceiling corners
Remove scuffmarks from floors, walls, and cabinets
Clean all appliances
Disinfect all surfaces
Wash all linens (comforters, pillow shams, throw blankets, sheets, and towels)
Has spring-cleaning drained your energy? Don't waste more time waiting for a junk hauling company that won't deliver. Call Mr Junk for same-day junk removal services.