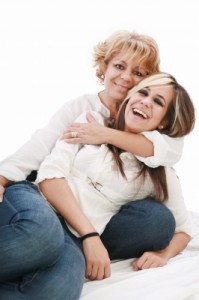 Do you remember when your mother used to make you do chores? Like everything moms do, chores serve a dual purpose: teach kids responsibility, and take a few simple tasks off mom's hands so she can cross items of her child care, home care, and husband care list. When we get older, we begin to appreciate just how much our mothers do for us. What we don't always remember is that they still have an endless list of cleaning to accomplish! If you're looking for a Mother's Day gift from the heart, tackle a difficult project from her to-do list.
Cleaning and Organization
Surprise your mom with the perfect gift this year: a day of relaxation. Chances are your mom has years of junk accumulated in closets, drawers, and crawl spaces. Take a load off her mind by sorting through her cluttered closets and dust-covered boxes of memorabilia. She'll appreciate not needing to haul heavy junk from storage, and she may be willing to part with more stuff over the phone than in person.
Home Improvement
If you're handy with a saw and nails, Mother's Day is the perfect opportunity to give a homemade gift. Build your mother that beautiful back deck she's always wanted. Not feeling that ambitious? Find small home maintenance tasks around the house. Replace a rusting faucet, repaint her bedroom in a color she loves (with her permission, of course), or weed the garden.
Landscaping
Once Mr Junk hauls the debris from your mother's yard, you'll have a clear canvas to plant roses, lay cobblestone paths, and hang ornamental bird-feeders by the windows. Our junk hauling service leaves no mess behind, meaning you don't have to worry about sweeping away rusty nails before you dig into your mom's favorite flowers.
Just because you've given your mom the gift of junk removal doesn't mean you want to haul off her broken furniture yourself. Call Mr Junk to remove old appliances, boxes of junk, and unwanted furniture. Then focus on the best part of Mother's Day: spending quality time with the woman who's given you life.