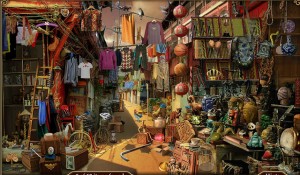 The holidays abound with good food, good company, and fond memories of Thanksgiving and Christmas traditions long past. But sometimes nostalgia has a way of junking up the cogs of your smoothly running holiday plans. Just like that crumbling dough snowman ornament you made in elementary school, some holiday hang-ons are best left in the past. Clear the way for new holiday memories by keeping in mind these three holiday de-cluttering tips.
Ask: what would your mother say? It's easy to wallow in the past when cleaning out your closets. When attacking your overflowing garages, attics, and storage sheds, look through the eyes of an impartial family member. Grandma's mahogany vanity is probably worth keeping, but do you really need that box of trains your son hasn't played with since he was seven? Put yourself in someone else's shoes, and put the shoes from your high school prom in the junk pile.
Keep Christmas presents on your mind. Pre-holiday decluttering often turns into a home shopping trip. Who knew you had two functional microwaves? So that's where your great aunt's costume jewelry went. Keep your Christmas list handy while you clean. You may not have any use for your dad's old record collection, but your niece might. Gifting heirloom items allows you to cherish their sentiment without junking up your space with things you won't ever use.
Pick your decorations wisely. Do you have a Thanksgiving drawer, a New Year's box, or a Christmas closet? Instead of hanging the first ornaments you see, reassess your holiday decorations this year. Pair similar items together to eliminate duplicate adornments. Then take stock of your collection: Have you hung that construction paper turkey in the last two years? If not, it's probably time to purge. How about the elaborate nativity scene that doesn't quite compare to your traditional wood one? You may have picked it up for a great price, but someone else will appreciate it more.
Call Mr Junk to haul away broken appliances, old furniture, and boxes of miscellaneous clutter. We'll donate, recycle, or trash your unwanted junk, so you can focus on making spirits (and your home) bright.