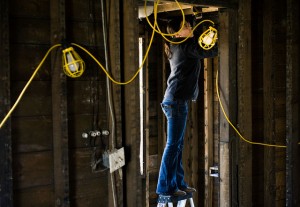 As the weather cools, it's time to consider how to prepare your home for the coming season. With winter on the way, house maintenance is imperative. Atlanta's warm autumn air and crisp breezes make the perfect time of year for home renovation projects. So pencil in your checklist, lay down that tarp, and put your Marietta junk hauler on speed dial, because we have your top 5 home renovations for fall.
Landscape: Fall is the time to prepare your lawn for spring. Weed, irrigate, aerate, and overseed this fall to guarantee an aesthetic holiday display and a green spring landscape. Rake your leaves and clear fallen branches throughout autumn to keep your yard healthy during the dormant season.
Pathways: Muddy yards and worn pathways quickly become tripping hazards during early winter frosts. Guard against winter as well as heavy autumn rains by installing walkways wherever your yard has heavy foot traffic.
Weather-proofing: Cool air slips through the cracks of your doors & windows, creating drafts and increasing your heating bill. Replace worn weather strips on your threshold and hang heavy blinds in the windows to prevent autumn's chill from seeping through.
Replacing Vents & Ducts: Dropping temperatures mean more time spent indoors with your family. Boost the air quality of your home and prevent potential fires by replacing the filters in your ventilation system. Clean the ducts of your dryer or replace vinyl ducts with a sturdier metal variety to prevent clogged air and fire hazards.
Roof Repair: You never know what leaves, branches, or ice might coat your roof during the colder months to come. Protect against leaks by replacing loose or damaged shingles, checking the seals, and clearing away leaves or branches that might trap moisture against your roof.
When your fall maintenance is complete, call Mr Junk to haul away your renovation debris as well as unwanted appliances, yard furniture, and home clutter.