Moving in together is a huge step in a relationship! It's exciting, but can also be a challenge. How do you merge two lives into one space? Here at Mr. Junk, we've got you covered. Check out our tips for organizing as a couple. 
Especially if both people in the relationship have lived on their own, you'll probably wind up with a lot of duplicate items: two couches, two TVs, two sets of dishes, even two beds. Go through everything and see what you have. Decide how many of each item you need to keep. If you have a second bedroom, will it be a guest room, or an office? If you each only have a couple of place settings you could combine them, but be honest and ruthless here. How many plates do you really need? Discuss what colors and designs you like best as a couple, and see how your possessions fit into those parameters.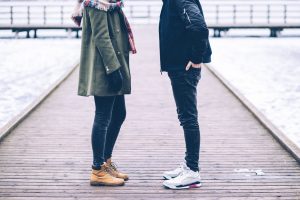 Once you've determined how much to keep, it's time to discuss what to toss. Remember that this process is all about compromise. Each person should decide on a small number of items they really love and want to keep, whether it's an antique desk, a really comfy couch, or a cherished collection, and be prepared to negotiate on everything else. As a general rule of thumb it's probably best to keep items that are newer or nicer, like flat screen TVs, or have sentimental value, like grandma's china.
Once you've decided what to keep and what to get rid of, contact Mr. Junk in Metro Atlanta. We don't just cart your junk away. We also donate and recycle everything we can, and we even sweep up after ourselves!