Thursday, August 17th is National Thrift Shop Day! If there are thrift stores near you, now is a great time to check them for sales and specials, or to go through your home for items to donate. We at Mr. Junk in metro Atlanta have put together a couple of hints to remember when looking for items to donate. 
When you think of decluttering your home, do you imagine all your old items being thrown away to clutter up a landfill? With Mr. Junk, you don't have to worry about that. When we haul your junk away, we don't just throw it out; we go through your old stuff and donate or recycle everything that we can.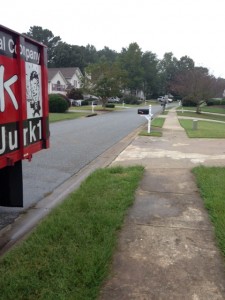 When you look for items to donate, remember the cardinal rule: all items should be clean, gently used (or new), and intact, which is to say that containers should have tops and games should have all their tokens. Here's a short list of items many thrift stores can't accept, whether for safety or sanitary reasons:
Used underwear (unopened packs of new underwear are a great item to donate!)

Helmets

Anything hazardous (paint, oil, any items that use fuel, etc)

Infant safety items 

Construction materials, lawn debris, etc

Mattresses and bedding
Some thrift stores can accept large furniture, appliances, and specialty items with advance notice but others can't. Rather than call around trying to figure out who will take your items, contact Mr. Junk and let us donate furniture, clothing, and appliances for you!