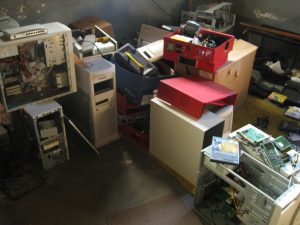 Is your basement full of old trinkets, boxes full of things you said you would fix "someday," or things you just don't use? Or is your basement being used as a storage for old tools and toys? No matter what's cluttering your basement, Mr. Junk is always here to help. Here are three tips to help organize your basement and keep it that way.
Access the clutter.

Determine what is taking up space and decide if you want to keep it, or put it in the haul pile for us to come up-and don't be

stingy

. If it's been sitting in the basement for months and you haven't fixed it yet, if you aren't going to fix it today, put it in thehaul pile. This will help with clearing out your space.

Choose the right storage for you.

Once everything is separated into the "keep" or "haul" piles, you'll have to find a way to store your remaining items efficiently. Investing in shelves or plastic storage boxes are great for this.

Hang things up.

Hanging things like pictures, paddles, hats, fishing poles are great for saving space. It get items that would take up a lot of floor space, up and out of the way.
By following these three tips you'll have a spacious basement for the family to enjoy. Whether you choose to put two things in your haul pile or 20 things in your haul pile. Our no minimum quote guarantees that we will be there to pick it up.
For more information about Mr. Junk visit our website or give us a call at 678-MR-JUNK1.