Flowerbeds aren't the only thing homeowners are uncovering this season. When the weather gets warm, folks get excited about cleaning out pools and hot tubs for another season of relaxation. Unfortunately, winter weather can be harsh on above-ground hot tubs, especially after several years of disuse. If you've uncovered your summer splash zone only to realize you should kick it to the curb, don't despair. Mr Junk makes hot tub removal as quick and painless as flipping on the jets.
Hot Tub and Above Ground Pool Removal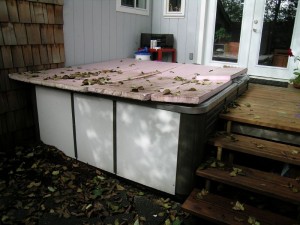 Some home amenities seem like a great idea at first glance. Unfortunately, many outdoor entertaining amenities are more trouble than they're worth. Hot tubs top the list for "it seemed like a good idea at the time" appliances. Hot tubs are excellent for entertaining, relaxing, and enjoying the beauty of the backyard. But once they fall into disrepair, they become a cumbersome eyesore for most homeowners. If you're ready to scrap your broken hot tub or small above-ground pool, it's time to call in the professionals. We'll take all the stress out of breaking down your tub and hauling it to the junk yard piece by piece. Mr Junk has experience hauling away old pools and hot tubs. We'll even sweep up any dirt or debris left behind after the haul! All you need to worry about is how quickly you can transform the vacant space in your backyard into a fresh new outdoor living area for the summer season.
For fast hot tub removal in Roswell, call Mr Junk.