Fall is officially underway. Nighttime temperatures are already dropping, and soon the leaves will fall as well. The first few weeks of autumn in the South means getting to enjoy our favorite outdoor activities without the oppressive heat. But the new season also gives us the opportunity to accomplish the home organization and yard work we put off during the busy summer months. Start the new season off right with a fall home clean out.
Fall Yard Debris
If someone asked you to think about the great outdoors in autumn, you'd probably paint a mental picture of crisp breezes, soft grass, and richly hued trees. But the same piles of red, orange, and gold leaves that give us our quintessential image of fall are not as harmless as we might imagine. Fall yard debris damages grass and gardens. As we usher in the new season, make sure to check these items off your fall lawn maintenance checklist.
If you have fruit trees, remove rotten fruit from the ground
Remove pests from plants
Cut back perennials (divide perennials that are growing too large)
Don't prune trees, but do clean up branches that have dropped during storms
Rake up leaves before they harm your grass
Closet Clean Out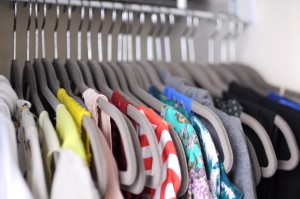 It seems like the moment fall we see fall looming on the horizon, we start calculating how long we have before boot season. But the flip side of dusting off last year's best fall boots is having to tuck away sandals for another year. When you switch your wardrobe from summer to fall, take a few hours to sort through both seasons' clothing for items you no longer use.
Do an initial sort of items you love, items you don't, and items you're not sure about
Separate your closet into keep, donate, store for next year, and trash
Double check the keep pile for items with holes, bleach spots, and threadbare seams
Consider implementing the hanger trick this season
Mr Junk wants to make your seasonal clean out as simple as possible. Call your Marietta junk removal services to haul away yard debris, old clothes, and household items that no longer work.