Anyone who owns a rental property knows some renters are difficult to live with. Some renters break appliances, forget to clean, and leave piles of junk when they leave. Hauling off a renter's forgotten stuff is even more frustrating than cleaning your own junk. And trust us, Mr Junk has seen almost everything when it comes to junk left behind at rental properties.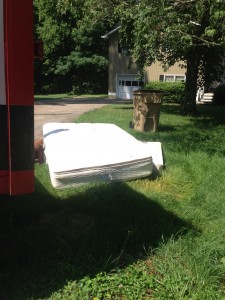 Nobody wants to wrestle a dingy old mattress into their trunk and off to the dump. At a recent job, Mr Junk hauled away this dirty mattress that had been left behind at a rental property. We always recycle or donate old junk, so it's more convenient and more beneficial to the community to let us haul junk from your rental home.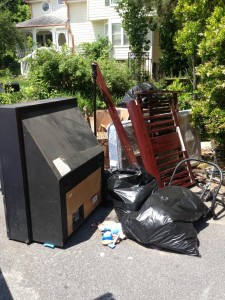 Would you like to see this pile of stuff when you come to clean out your rental property for a new tenant? Skip the hassle of hauling and sorting, the inconvenience of taking someone else's junk to the dump, and the guilt of not recycling because you just don't have the time. Mr Junk does post-rental clean outs. You're already spending time and effort dealing with paperwork, cleaning, and finding new renters; the last thing you need is a weekend wasted on hauling away clutter left behind by previous tenants.
Mr Junk does home, garage, and storage cleanouts in metro Atlanta. If you need a rental property clean out, call our Canton junk removal service to leave your property mess-free and stress-free.