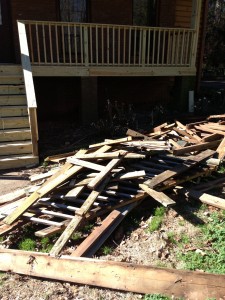 The most challenging part of Father's Day finding dad a meaningful gift he'll actually like. He loves the grill you chipped in for two years ago, but it's not time to replace it yet. He never seems to wear the golf shirts you get him. And as much as he'd love tickets to the game, it just doesn't fit into his schedule. The best gifts are sometimes the least expensive. This Father's Day Mr Junk has the perfect clean-out service for any kind of dad.
The DIY Guy. Big projects mean big messes. If your dad's the kind of guy who will rip up and refurbish a deck, he probably has a yard full of scrap materials and renovation junk. Help him tackle his latest project and call Mr Junk for fast, painless removal of the leftover junk.
The Visionary. Sometimes there's a great divide between thinking and doing. If your father's the type of man with grand plans and no follow-through, he's given you the perfect opportunity for a meaningful father's day gift. Rifle through his plans for an updated kitchen, a fresh landscape, or a new outdoor entertaining area. Enlist the help of family and friends to make his dreams a reality, then call Mr Junk to clean up the mess.
The Working Man. There are men who have jobs, and there are men who have jobs. If your father spends long hours at the office, chances are he doesn't want to clean out clutter and haul yard debris after work. Take the hard stuff off his hands by organizing his junkiest home spaces. After you've cleaned out his garage, attic, and storage shed, call Mr Junk. We'll donate or recycle his unwanted items, leaving you and your dad to enjoy a relaxing, clutter-free Father's Day weekend.