A Bagster sounds like a great deal. $29.99 for convenient, unscheduled junk removal without leaving your home? It's more manageable that renting a dumpster, easier than packing your pickup truck with debris, and simpler than calling an unreliable junk hauling service. But like most things that sound too good to be true, the Bagster is, too.
The Price Isn't Right
Bagsters may look like a cheap solution when you see them at the hardware store, but the price of this junk removal option isn't as great a deal as it seems. The Bagster itself costs around $30, but the pickup charge is over $100. After running to the hardware store to buy a Bagster, filling it up, and calling to schedule pickup, you're looking at around $140 in cost alone. Whereas the Bagster comes at a blanket rate, Mr Junk charges by the size of your junk haul. The best part? We have no minimum pickup fee, and our junk hauling team will move, remove, and recycle your old stuff with no sneaky add-on charges.
More Trouble Than It's Worth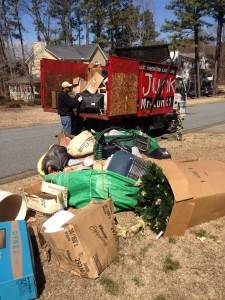 Recently, a customer called us to remove a Bagster from her yard. She couldn't coordinate with Bagster's extensive restrictions, fees, and waste management scheduling problems.
Bagster requires street removal. Debra's contractor loaded it near the house, so she had to drag the heavy Bagster to the street.
Bagster only allows certain types of junk. Debra would've had to dig the tires and chemicals out of her Bagster before waste management would haul it off her property.
Because her Bagster didn't meet their requirements, the waste removal company rescheduled at additional cost to Debra.
Other common problems with Bagsters include:
Doing all the labor yourself
Junk sitting in your yard or driveway until waste management can remove it
Only 3 cubic yards of space per Bagster
Bagsters can only contain 1 cubic yard of heavy renovation material (brick, concrete, sod, etc)
No junk recycling
Waste management removes only the Bagster ; you have to clean up what's left behind
For fast, inexpensive junk removal, call Mr Junk.