Folks in Canton, Marietta, and Atlanta are hoping the worst of the winter weather is behind us, but as last week proved, there's no avoiding snow in the South this year. With a few days' warning, residents of metro-Atlanta were well prepared for inclement weather. The thing people weren't prepared for? Piles of trash.
The roads iced over last week, leaving garbage trucks unable to navigate their usual routes. Space heater boxes and empty canisters of hot chocolate piled up fast, leaving a mountain of junk and no one to collect it.
Apartment Complex Trash Overflow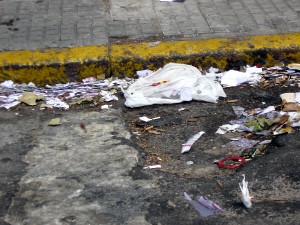 Waste management is a crucial component of running an apartment complex. Providing services like door-to-door trash pickup, recycling, trash compacting, and overflow dumpsters often means the difference between happy tenants and residents hunting for a new home. And with so many people contributing to the junk pile, trash can build up fast. Last week condominiums and apartment buildings suffered an overflow of residential waste when garbage services shut down due to the winter storm. Trash spilled from dumpsters and trash compactors to grow soggy and fetid in the melting ice. Residents dumped their junk on the curb, unwilling to slog through the mess of garbage.
Instead of dealing with irritated residents and rotting garbage, call Mr Junk to haul away your trash overflow. We'll remove all traces of waste, leaving your property clean and ready to face the rest of winter.
Garbage Removal for Homeowners
Most weeks home trash pickup services run smoothly, but when something goes wrong, a headache is never far behind. Winter weather, unexpected traveling plans, and plain old forgetfulness can mean bags of trash piling up on your driveway. The next time trash day leaves your garbage behind, call Mr Junk. We'll haul trash bags, donate boxes of junk from home clean outs, and remove old furniture from your Marietta home.