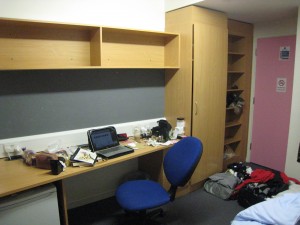 We've all been there. The living situation that looked bright and promising at the beginning of the school year has soured. Maybe the facilities weren't what you were expecting. Maybe your roommate kept eating all your food. Maybe you found a new apartment off-campus. Whatever your reasons for relocation, we're here to make moving simple. Instead of battling stairs, co-eds, and university waste regulations during your dorm move, let Mr Junk haul away your unwanted futons and broken coffee makers. You have enough on your plate.
Whether you're a relocating pro from semesters of speed-moving after finals or you've managed to avoid the chaos of hauling furniture and books, a few things never change. You'll always have to clean your dorm room, the goodbyes to your old roomie are always awkward, and something will inevitably go awry. Universities from Harvard to Kennesaw State have tips and checklists to make the shift simple, but winter-semester dorm relocation seems to fall through the cracks. When moving dorms before second semester:
Check the university's move-in dates
Ask ResLife about cleaning guidelines, repainting, and damage fees
Avoid unnecessary charges by asking questions
Coordinate with your new roommate or landlord before you start packing
With the madness of finals, holiday shopping, and planning trips, switching dorms after first semester is almost as stressful as moving home before summer classes start. But relocating on-campus now has an advantage: fewer people are hauling boxes and futons across the quad. Make moving dorms even simpler by keeping these relocation guidelines in mind:
Pack a box of important items so your toothbrush and exam study-guides don't get lost in the mix.
Sell, recycle or trash old appliances, furniture, and books.
Use mid-sized boxes that are easy to haul and enlist friends to make the move faster.
If your old carpet, upcycled coffee table, or Charlie Brown Christmas tree just won't work in your new living space, call Mr Junk. We recycle and donate old junk so you can focus on finals, not finding a new home for your high school stuff.