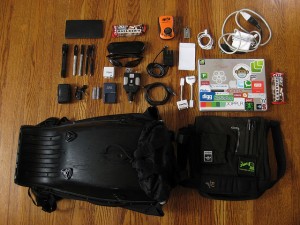 Could you imagine living with less than 100 possessions? How about 55? Minimalism is a growing trend that focuses on stripping away the excess items that may be cramping your lifestyle. Now we can't quite imagine a total home clean out, but as junk haulers we couldn't help but be intrigued by these innovators who are taking decluttering to a whole new extreme.
What is Minimalism?
According to the leading minimalist bloggers, the lifestyle is less about throwing out stuff and more about reanalyzing your priorities. Where's your focus? How do you spend your time and money? By sorting attics, garages, closets, and junk drawers and weeding out the things that are broken or unused, you can narrow your perspective about what possessions are truly important to you. And by considering what things you hold dear, you can reevaluate how much of your time is spent on possessions instead of people.
Applying Minimalism to Your Life
Okay, so you probably aren't going to call Mr. Junk to remove all your worldly possessions. But whether you live in an apartment in downtown Atlanta or in a home in Marietta, there are a few life-changing takeaways you can apply to your home and family. Start with the clutter. Are you holding onto broken appliances? Furniture that's become little more than a tripping hazard? Have you found boxes without knowing what's inside? Chances are removing these accumulated items will only create space in your home. Next sort through collectibles and keepsakes. Do they have sentimental value? Keep them! But if you're having trouble letting go of something you know is unnecessary, try setting it aside for a few weeks. The distance may allow you to let go of junk that's only inhibiting your lifestyle.
Minimalism may sound like an extreme response to owning too much, but taking a page from the minimalists' pamphlet can help you open opportunities in your life and your home. Decide what's important to you and find the right Mr Junk service to haul away the possessions that are cramping your style.