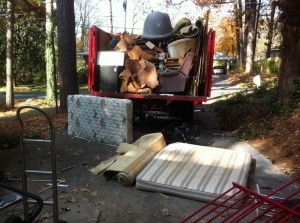 Nothing makes you realize how much junk that has accrued over the years like moving to a new home. Maybe it's due to the fact that most people hate the process of packing and moving, but somehow we are able to take a second look at what is in our home and question whether or not it should move with us. Moving to a new home should be like a fresh start. It doesn't make much sense to bring the junk you don't want to your new beginning, right? This can be especially true for empty nesters who might be downsizing to a smaller home, townhome, or condo. Your local junk removal services in Atlanta can help make the process much easier.
Here are a few suggestions on how to sort out the junk before you move.
Atlanta Junk Removal Services Before You Move
Look for worn out furniture like couches and dressers. Nothing can make a new home look old like worn and torn furniture. Go ahead and have Mr Junk remove the furniture for you. Rest easy knowing that furniture in good enough condition can be donated to a needy family.
Do you have appliances that are just collecting dust? Many people end of with a collection of home appliances like vacuums, blenders, or old mixers. Keep your kitchen from cluttering up with junk removal before your move.
It's time to throw away the random gifts, "collectibles" and the "one day, this will be worth a lot" junk in your home. You can usually find these types of items tucked away in your garage, or stored in boxes in your basement. If you say, "Oh, I forgot I had these," then they might be a good candidate for adding to the back of our junk removal truck.
If you have a big move coming up, make sure you leave the clutter behind and enjoy a fresh start in your new home.
Contact Mr. Junk to help you with your junk hauling and recycling needs in metro Atlanta, Georgia.
Related articles