Have you been thinking about having some of your junk or extra stuff around your home hauled off? Are you curious about how the process works? In this post the team at Mr Junk GA shares facts on How To Use Mr Junk Service.
How To Use 678-MrJunk1
Here's How it Works: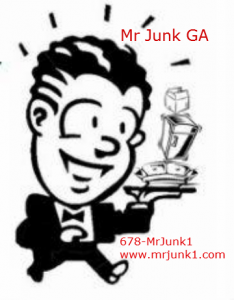 You can contact us two ways, either by phone at 678-MrJunk1 or you can fill out our handy form online and send it to us. We will get back to you ASAP if it's online and begin the process.
Once you've contacted us we come out and inspect the junk to see how much the removal will cost you. Just show us the direction of the junk and we will begin the estimating process. We will give you an estimate based on the volume of the junk or debris. We will tell you the price upfront so you can make a decision.
If you choose Mr Junk to haul off your junk, we  come and will remove the trash, debris, large furniture items or whatever kind of  junk you need to be removed and haul it off.
We fill our truck and remove your junk from your property. We also leave behind a cleaned up space. Our motto is to leave your cleaned out space as clean as if it was our own home.
We also believe in recycling and make every effort to recycle the materials we pick up.
It's that easy. You either call or send in an online form and that is all you  have to do to finally get rid of the junk that has been piling up in your home, attic, basement, or garage.
Remember if you have any questions or would like to know more about our services please contact us today!