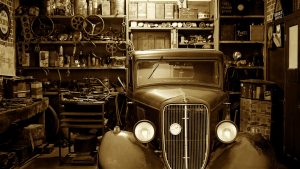 Summer is often thought of as a time to start on summer projects around the house, but you'll need a clean work space for that in your garage. After you've cleaned out your garage to make room for a work space, give Mr. Junk a call to get rid of the junk. Check out these tips to maximize your time while cleaning out the garage:
Set Aside Enough Time
Many people try to tackle huge projects in a short amount of time. But, if you have a big garage (or a small garage that's super cluttered), you will need ample amount of time to go through everything. If you have a spouse and kids, make it a family cleaning project! Assign roles to everyone to maximize time and efficiency.
Sort Into Piles
Bring everything out into an open space – the lawn or driveway works great. Now, it's time to sort every piece of clutter into its appropriate pile: keep, donate, throw away, and sell. Be picky about what you choose to keep! Ask yourself "Do I really need this? Will I use this in the future?" If the answer is no, set it in one of the three other piles. This will help eliminate your clutter substantially!
Call Mr. Junk
Many homeowners put big items in their garage such as lawn mowers, bicycles, and desks. If you choose to get rid of such big items, it's likely that your garbage man won't collect them. That's where we come in. Let the Mr. Junk team take your clutter off your hands! Our service areas include Alpharetta, Canton, Kennesaw, Marietta, Roswell, and Woodstock.
Contact Mr. Junk with any questions you have!