Can you feel it? Spring is almost here. As you turn to garages, sheds, and other storage units to pull out landscaping equipment, it's not uncommon to realize that a lot of it us in need of replacement. Now is a great time to upgrade so you'll be ready for all the spring and summer lawn chores, but what do you do with your old landscaping equipment?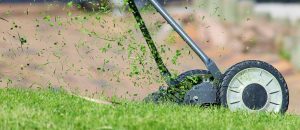 First of all, why would you want to upgrade? Newer equipment, especially lawn mowers and trimmers and the like, is more efficient and thus better for the environment. Gas powered lawn mowers are big polluters, so the more efficient you can be the better! Not only that, but sharper blades, better engines, and more advanced technology mean you'll have less work to do, use less power, and save yourself time and energy.
Now, how to get rid of your old lawn equipment? You could always sell it, whether at a garage sale or online. On the plus side, you could make a little money. On the other hand, you'll have to manage transportation, and online selling can be a hassle. For the easiest solution, just call Mr. Junk to haul your old landscaping tools away. Not only will we sweep up after ourselves, but we'll make sure to donate or recycle whatever can be donated or recycled before we throw anything away. We can even take yard debris while we're at it! Give yourself more space to work and enjoy your yard this spring and summer and contact Mr. Junk for junk removal in metro Atlanta today!