There's nothing like children to bring joy–and chaos!–into a parent's life. At Mr. Junk, we're big proponents of keeping tidy, but we understand that life with kids can be messy despite our best efforts. Here are some ideas on how to rein in clutter when there are kids in your home!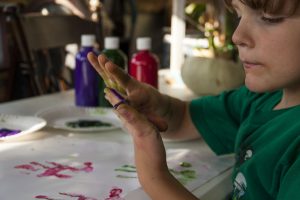 First things first: when you're ready to declutter, take one room at a time, and don't panic if the rest of the house gets a little crazy in the meantime. Check out some of our previous blogs on decluttering your attic and getting rid of all that excess paper (both things that can get especially out of hand in busy families), as well as tips for cleaning with kids.
Part of the trick to keeping a tidy home is to make sure that everything is it in its place. But if certain things don't have a place, how can you put them away? Figure out where you set things naturally and make a space for them to live near there. For instance, if kids tend to drop their bookbags they first walk in, hang hooks for them near the door. Remember: "a pile on the desk" is not a good place! If you have an especially forgetful family, it may help you to put labels on containers so no one has an excuse not to know where things go.
If you find that you just don't have enough space for everything, don't forget to call Mr. Junk when you're ready to get rid of stuff in the Metro Atlanta area!