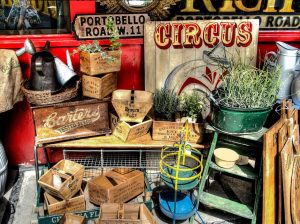 Garage sales can be a great way to clear out unwanted clutter while making a little money at the same time. Before winter arrives, set aside a weekend to clear out and sell unwanted items! Whatever doesn't sell, contact Mr. Junk to haul away for you!
Check out these useful tips for hosting a successful garage sale at home.
Start Early
Saturdays are the best day for garage sales. During the week, people are at work. On Sundays, people may be at church. So, when you pick the perfect-weather Saturday for your garage sale, start as early as possible. Most people like to go treasure hunting in the early-morning hours before the sun gets too hot.
Poster Up
Put posters everywhere telling people about your garage sale several days before the sale! Make sure the signs have all the necessary information (address, time, and day). The more posters that you place in your community, the more people will come.
Offer Drinks
Treasure hunting at garage sales can get tiring for your customers. Provide water or sodas for your guests to enjoy while they browse through your things! Since they received something for free, they will be more inclined to buy something.
Play Music
Nobody likes to feel awkward at a garage sale, and complete silence can definitely contribute to awkwardness. Turn on a radio station that plays appropriate music, or play music from the 70's or 80's to add that extra nostalgic touch.
The team at Mr. Junk hopes your garage sale is extremely successful! Whatever you don't sell, we'll haul away for you. Check out how we price our services.