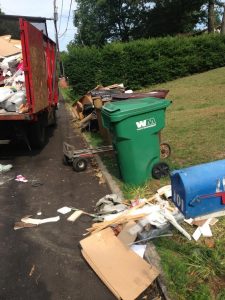 At Mr. Junk, we strive to get rid of junk quickly and efficiently. Recycle as much of it as possible or donate it to charity. Not only will we be helping the environment and community, but will also be donating a portion of our profits to local charities. Check out these three reasons to keep your business or property clutter free.
Appearance

– These days, everything is about appearance, especially when running a business or managing a real estate property. The outer appearance of a building can make or break it before a potential customer or tenant steps inside of the building.  

Property value

– Allowing a property to become cluttered with debris or trash can and will cause the value of your business or real estate decrease. So, it's better to keep up with it than to "let it go."

Protect the environment

– Leaving debris and, or trash on the outside is a hazard to animals. Do your part to help improve and protect the environment by making sure your business or property is clutter free.
Decluttering your business or property will enable you to attract potential customers and tenants, while increasing the value of your property and protecting the environment.
For more information about Mr. Junk, visit our website or give us a call at (678)MR-JUNK1.
Has Mr. Junk helped you out before? Share your experience with us today on our Facebook page!