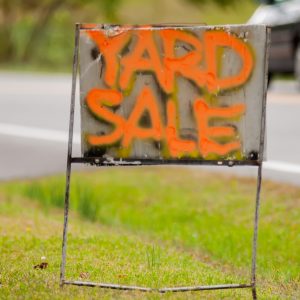 Gearing up for a yard sale? Take a look at these tips that'll help your yard sale be successful.
Distinguish trash from treasure.

– Yes, one man's trash is another man's treasure, but not if it really IS trash. No one wants your old, stained floral coach your aunt gave you in college. If it's trash, put it in the haul pile for

Mr. Junk

to pick up later.

Have a neat appearance.

– It's just like walking into a thrift store and having to sift through a million items to find what you want. Not everyone enjoys that, so being neat and having your items arranged in an orderly will help attract people to you.

Better Homes and Gardens

also suggested this in an article.

Make room for new things.

– Face it, if you put it up for sale during the yard sale, you don't want it anymore. So, give Mr. Junk a call and we'll come pick it up, so you don't have to throw it away.
By following these three steps, your next garage sale is sure to be one worth while. Filled with items that hold value and a stunning display. Don't forget, give us a call when you're done and we will handle the junk.
For more information about Mr. Junk, visit our website, or give us a call at (678) MR-JUNK1.