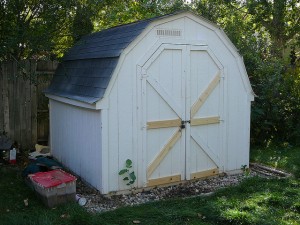 A well maintained backyard can be an oasis for you and your family. Likewise, a backyard filled with old junk can become an eyesore, and something you would rather just forget about. Well, now is the time for you to clear it out and have a backyard that you can enjoy.
Shed Removal
Yard sheds can provided needed storage for your lawn tools, and a well built shed can last years and look great. If your old yard shed looks like it is falling apart, try replacing it. Call in Mr Junk to remove your yard shed and start making plans for a well designed backyard. Take advantage of being able to plan a new spot for your shed that makes sense to your needs. Keep accessibility and design in mind so that it can easily blend into your landscape while maintaining functionality.
Yard Furniture Removal
Are you still hanging onto that old, rusty yard furniture? As the summer retail season comes to an end, you can start taking advantage of specials on new lawn furniture. When you call Mr Junk to pick up your old shed, why not have him pick up and remove old lawn furniture from your property as well? Find some great deals on lawn furniture now and enjoy your cleaner backyard as the cool months roll into Atlanta.
Yard Debris Removal
Finish off your backyard renewal project by having Mr Junk remove your yard debris. Whether you have yard trimmings, old trees, or outdate landscape features that you want removed, we can handle the loading and hauling for you.
Contact Mr Junk for all of your Atlanta junk removal needs and enjoy the freedom of a clutter free home.
Photo via Flickr