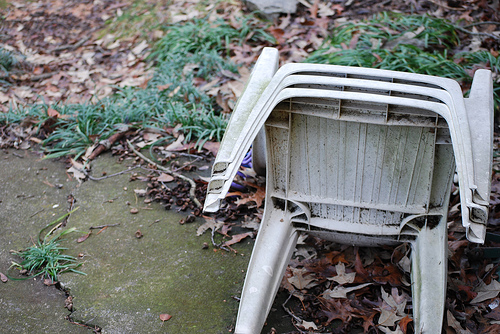 Updating your home's curb appeal is a great way to add satisfaction and value to it if you plan to sell. Most of your gardening and planting are most likely finished by now. Since you are not spending your weekends at the plant nursery, now is a good time to reassess the status of your old lawn furniture. Is it time to make that outdoor living upgrade that you have been wanting for years? Now might be the perfect time to have your old yard furniture hauled away, and replace it.
Summer may have officially just started, but not according to retailers. A few days after the Fourth of July, retail businesses have already started to think about the fall product line coming out. Here are a few reasons why it might be a good time to wave your old furniture goodbye.
Retailers are starting to slash prices for outdoor furniture. Why? Most people get excited about the warm months ahead when it's still cold out or at the beginning of spring. By the time July hits, enthusiasm dies down and there is a lull. This is a great opportunity for savvy shoppers who want to immediately enjoy new outdoor furniture for the next few months and the amazing prices.

Your old furniture can have a second life. Our Atlanta junk removal services cover furniture removal. When we pick up your old outdoor furniture, we look to recycle as much as possible or give it away to families in need before we consider taking it to a landfill.
When getting rid of your old yard junk, consider furniture removal services when you are getting ready to spruce up your outdoor living area.
Photo via Flickr